Jonathan Ulysses & Reza – BAILA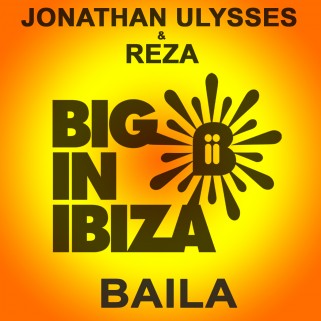 For this release, Jonathan "King Of The Terrace" Ulysses teams up for a second time with Reza to bring you yet another high energy club classic with a latin twist. Building on the success of their previous combined track, "We Shall Prevail", "Baila" is tipped to be one of the tunes of this summer. The track combines the best of Jonathan's trademark up tempo, pumping house style with Reza's groundbreaking innovation to create something special. The track has had early support from the likes of Roger Sanchez, Seamus Haji and Thomas Gold will receive the support of a growing number of DJs after its release.
Buy Online Now from:
Beatport
Trackitdown
Juno Download
iTunes
DJ Tunes
Masterbeat
DJ Download
Amazon
Audiojelly
Dance Music Hub
Reza describes this lively track as "a mainroom latino bomb with a huge Brazilian riff!", showcasing the talents of two of the genre's biggest DJs. First previewing on April's 2010 Ibiza Opening Party Mini Mix (mixed and compiled by the Space resident and Ibiza legend Jonathan Ulysses himself), "Baila" promises to continue from this success and grow with an impressive reception.
One man epitomises Ibiza. Jonathan Ulysses. During his epic 15 year DJ career including over a decade as resident at Space, Jonathan has always put the people first giving them exactly what they need at every turn and has built up a huge following of supporters who come to him for his unique brand of energetic, driving house music with soul.
Connect with Jonathan Ulysses:
www.jonathanulysses.com
www.myspace.com/jonathanulysses
www.twitter.com/jonathanulysses
http://www.facebook.com/jonathan.ulysses

Feedback for Baila:

Roger Sanchez
Release Yourself Radio Show #448
Part 3
Release Yourself Spotlight:
Jonathan Ulysses & Reza – Baila (White Label)
http://rogersanchez.com/media/radioshow/#448
Mark Knights Toolroom Knights Radio Show
60 MINUTE GUEST MIX WITH THOMAS GOLD
Jonathan Ulysses + Reza – Baila
http://www.kissfm.com.au/forum/viewtopic.php?p=10229&sid=0b4968b30fba1a93bd2fd4b83d968514
http://www.toolroomrecords.co.uk/toolroom-knights-radio-show/
Thomas Gold "Thanks for this, already playin it for some weeks!"
Howard Donald (Take That) – Great Track
Raul Rincon – Nice one,…will use in my sets!
Agent Greg – Greece – THIS IS BIG!!!!SUMMER VIBE ALL OVER!!!
Frisco Taibo – I´ll play in my radio show Hit Clubbin´
Bassmonkeys – That`s what i`m talking about!!!! TUNE!!! Full support by me buddy, can it go on our show yet???
Nino Anthony (USA) – Nice latin vibe
Dirty Secretz – Big track, full support here!
Jay Kay – Love it !! Has put me in the mood for the summer !! Big support !!
Dale Hooks – Kinetik/Mynt-Belfast-Like it dude very nice will give it a go at Kinetik's 3rd birthday this Friday
Sergio Matina (Italy) – Like, play & support it…. 8/10!!!
Natalie Brogan – Loving this tune. Real Ibiza sound to it. Its on my radio show next Wednesday (30th June)
Dub Monkeys – Wicked tune mate, right up my street!! it will be played this weekend for sure!!
Jon Craig – Cheers for the track Dude, absolute tune!
Gary Harrison – This is so cool, for I like the retro feel and the vocals suit the summer period.
Mathouse Recs (Germany) Absolutely summer feeling. Nice!
Roger Williams (Hed Kandi/Fierce Angels) – Im loving the vibe to this track! for me i love the chunky beats and tribal feel! It a great track and ill be playing this at my gigs! full support on this one
Related Posts