Love Assassins "The Boy Is Mine"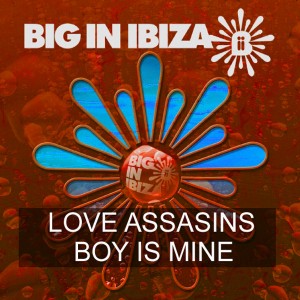 "The Boy Is Mine" is Love Assassin's second single following on from their club smash "Teardrops". The Architechs unofficial bootleg of Brandy & Monica's "The Boy Is Mine" from 1998 was and still is one of the biggest garage records hammered by all the biggest DJs. However, because it was uncleared this monster anthem has never received the full support it deserved. Now Love Assassins present their new take on this absolute classic with remixes by both Soulshaker and Love Assassins with their own Rebel Bassline Remix, to the fuse Old Skool Garage vibes of the original, with Nu Skool Bassline and breathe life into this classic for 2008.
Big In Ibiza's Head A&R man Dave Louca teams up with his crack team of studio misfits to form Love Assassins. Having remixed some of the biggest Ibiza anthems and unleashed several killer club tracks the boys are establishing themselves as a force to be reckoned with their trademark contemporary big room sound that feels at home rocking main rooms, bars and beach sets alike.
Mark Doyle (Fierce Angel) "Nice … We'll get that on the radio show next week !"
Gary Harrison (Gaydar Radio) "Thanks for the track, really like it!  The vocal is incredibly true to the original – who is the vocalist?"
Nilesh Parmar (MoS Tour DJ) "Mate I love it, like the Soulshaker mix, so I will play it. A very summery uplifting track and easy to listen to too, definitely can see this on the radio and club scenes. Playing the bassline mix at my Nottingham gigs."
Ian Longo (Juice FM) "Will use that on the show pal tis good!"
Andy Almighty (CD Pool / 7th Heaven) "Very good!!"
Wideboys "Great track we are on this big time!"
DJ EZ "Track has been supported on Saturday night Bassline on Kiss for the past 2 weeks. Good track!!"
Matt Jam Lamont support
Shaun Banger Scott "Will support on next weeks show"
Nev Wright "Not bad not quite as good in my opinion as the teardrops remix but still its saved and i may get some play from it."
Matt Farley – "The massives love this"
Joe Q "Been playing this for the last two weeks in different clubs,big tune!!"
Davey Boy (Ecko Records): This is massive track in the clubs right now!!! Getting played every set at every club!!! I give it a 9/10 for dancefloor!!
Related Posts