Presenting: Chris MiMo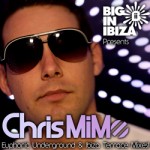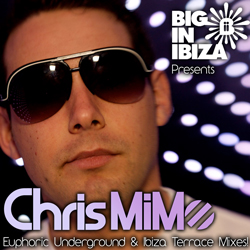 Recently labeled an "Ibiza Legend" by DMC Update, over the past six months Chris MiMo has continued to establish himself as a rising star in dance music. His MiMo event has gone from strength to strength, recently launching to a full crowd at their newest party spot in Vauxhall's Lightbox venue. On top of this, since being signed to Big In Ibiza in the later half of 2008, Chris has also continued to produce anthem after anthem receiving support from some of Dance's top DJs including Dubfire, Sander Kleinenberg, David Guetta, Robbie Rivera and Jonathan Ulysses (Space) as well as remixing for artists including Mauro Picotto and labels such as Cr2.
To celebrate this, Chris now presents 20 of his biggest records on this 2 x CD compilation – CD1, Euphoric Underground Mix / CD2, Ibiza Terrace Mix – featuring tracks and remixes from himself, Wally Lopez, Paul Thomas, Filthy Rich and Jonathan Ulysses.
Chris MiMo started his production career as one half of Dirty Funk Munkees (during his time as in house promoter and head resident for Smoke and Funky4Love @ Pacha, London) and immediately made an impact with his first tune, a one-off test pressing that to this day hasn't had a release or even a title, getting listed in Pete Tong's top 10 tunes of the summer!
Last year Big In Ibiza met Chris MiMo at his event in Ibiza immediately snapping him up and putting their full weight of 20 years industry experience behind him joining acts such as Mauro Picotto, Fonzerelli and Tom Neville. Building from strength to strength with their White Isle inspired beats and at the forefront of the wave of new home grown talent emerging from the label Chris MiMo has unleashed anthem after anthem of his genre bending house music, receiving consistent support from various top name DJs with his releases and remixes consistently charting in the likes of the DMC Buzz and DJ Mag Killer charts. Chris has also been busy in the studio crafting his debut artist album, Digital Visions.
On top of his successful releases, over the past six months Chris has packed out events at MiMo's new London home, Lightbox, as well as continued his residencies around the UK and hosting rooms at various events including Ministry Of Sound's Bar for The Gallery – where Chris returns this month to play
alongside Judge Jules, Tania Von Pear and Mutiny – and Back to Basics in Leeds.
Over the next few months alone Chris will be continuing this rampage with forthcoming dates over the Ibiza season seeing him headline Eden for his MiMo event and headlining Ibiza's most talked about room in the Zoo Project's Seal Pit as well as headlining various festivals including this years Bloom Festival
Through the mixture of his gigs, events and productions, Chris MiMo has his sights set firmly on world domination throughout 2009.
Related Posts