Rachel Barton EP 'Who Knows'(Remixes by Camel)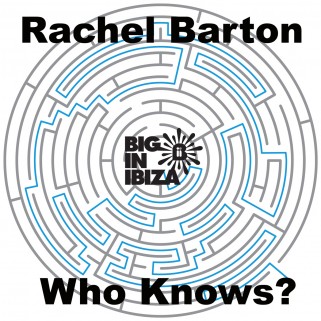 Rachel Barton has rocketed onto the scene over the past couple of years with her own brand of unique, fun and bouncy dance music that definitely doesn't take itself too seriously and has seen her spin alongside some of the World's biggest DJs including Fatboy Slim, Steve Angello, Axwell, Sebastian Ingrosso, Todd Terry, Justin Martin, Chase & Status and Caspa.
Mixmag "Rachel Barton rocks the main room!"
Catching the attention of some key promoters Rachel soon found herself with residencies at Lovebox at The End alongside Groove Armada as well as spinning at some of the most high profile events in the world including BBC Radio 1 party at Amnesia in Ibiza, BBC Introducing stage at Creamfields, Pete Tong's Wonderland residency at Eden Ibiza, every Annie Mac Presents tour, Radio 1 stage at Homelands, Ink at the Winter Music Conference in Miami, Metripolis, LMP, Fabric and more!
Now for 2009 following a killer set at Pete Tong's Wonderland Rachel met up with Big In Ibiza at their London studios to create her debut releases "Who Knows" due for release in October already drawing support from huge names including Groove Armada, Inland Knights, Style Of Eye, Bird Peterson, John Jones (Hed Kandi), Gareth Wyn (Cream) and more!
With remixes due any week and an increasingly busy gig list Rachel Barton looks like she's one to watch for 2010! But don't just take our word for it! The early support from the coolest DJs in the world should prove it though!….
DJ Feedback For Rachel Barton:
Tom Findlay (Groove Armada) "Wicked bassline and nagging hook". "Sounding great. Loving the original of Giggle and the Yankee Zulu Mix the most."
Inland Knights "It's a cool track. I like the production and groove. I'll play it"
Style Of Eye "Oohh!! massive first release! Going to smash it this summer!
Riva Starr "Sure that I got em WHO KNOWS original and Camel rmx are definitely in my dj box, I ll put em on my next mixset if u don t mind. Very happy for u Rachel this is really good house music"
James Talk "They are all really good! i am going to play the original of who knows and giggle out."
Mowgli "Big support from me!
Bird Peterson "This track is an A plus! I'm the biggest sucker for horns and dirty bass together. I will spin the hell out of this, thanks!"
Ridney "Thanks for the tunes! Will def support this weekend :)"
Zombie Disco Squad "I love these tracks- good work! full support from ZDS and will be watching rachel closely"
Damian Wilson (CR2) "Got the Rachel Barton track – very hot – been playing that out already!" "I wasn't a fan of Giggle as i mentioned before but the remix really works. Always liked the who know and i like the remix but still prefer the original. will take them out to test next gig"
Gareth Wyn "Like both tracks, cool sound. Used 'Who Knows' in Ibiza last week at Cream, worked well."
John Jones (Hed Kandi) "Really nice grooves ive been supporting. Giggle is pick for me."
Anton Powers (3 Beat) "Who knows is the one for me, will pay on show too!"
Tim Andresen "Who Knows for me! Wicked groove…"
Nino Anthony (Portamento Records) "Giggle" is a quirky little number. Definitely feelin it.
Ted Nilsson "Thanks for the promo – not really for me but I like the groove on 'Who Knows', I'll try it out!"
Sonny Wharton "Great debut from Rachel – these rock!! will support heavily!! :)"
Jonathan Ulysses (Space) "Thanks for the track… like the bassline loads"
Zigmund Slezak "Really like both these tracks, top notch"
Dumb Dan "Loving both of these – will play!!!"
Airbase "Nice productions."
Flash Brothers "Really like & support Rachel's 'Giggle' track, very cool tech house tune!"
Sharp Boys "Definitely a fresh and bouncy track for our terrace and lounge sets"
StimpY "This is absolutely spot on! 10/10. Love it!!!! Plinky Plonky & barking love the percussion. Well done Rach x Let me know if you need some expert promo on it ; )"
Luke Neville – "Liking the original…funky!"
Kid Massive "thanks for sending this.. the "who knows" track is great !!! love it.. original mix for me…"

Available to Download at Track it down
Available to Download at DJ Download
Available to Download at Juno
Available to Download from Beatport
Available to Download from Itunes
Related Posts