Sing It Back hits # 15 on Trackitdown Chart!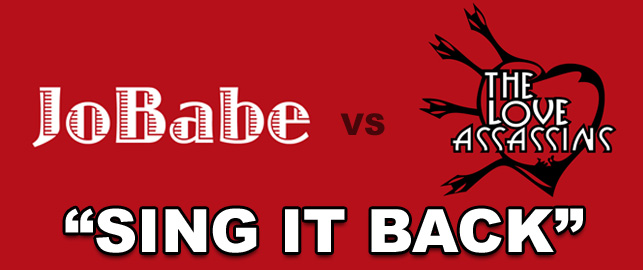 Trackitdown Featured Track:
"A track here that just has Ibiza written ALL over it! JoBabe of Big In Ibiza fame takes a classic old vocal and gives it a worthy updating. various mixes to look at but this is the one for us, that proggy synth layer just adds to the Summery feel of this track, and we LOVE it!"
Download from:
Trackitdown
Already number 15 and rising in the Trackitdown chart "Sing It Back" follows up Love Assassins huge download chart topping releases "Drinking In LA" and "Ain't No Love (Ain't No Use)", unleashing their own twist on Moloko's classic "Sing It Back" featuring Big In Ibiza's gorgeous JoBabe laying down her trademark sexy, sultry and passionate vocals. JoBabe smashed into the public eye with the Top 40 smash Real & Richardson ft JoBabe 'Sunshine On A Rainy Day' and her debut solo single "Getting Hot". She has featured on every Love Assassins release to date and recently has found many of her acapellas getting mashed up on Ministry Of Sound's # 1 selling compilation album "Mash Up Mix 90s"!
Formed in 2006 Love Assassins have established themselves as a force to be reckoned with their trademark big room hands in the air sound as one of the leading production and DJ teams on Big In Ibiza which has been building from strength to strength with their White Isle inspired beats and events. Led by Big In Ibiza's Head of A&R Dave 'Filthy' Louca and his crack team of studio misfits, Love Assassins feel at home rocking main rooms, bars and beach sets alike.
Track Listing:
1) Sing It Back (Radio Edit)
2) Sing It Back (Original Mix)
3) Sing It Back (Love Assassins Mix)
4) Sing It Back (Elektrogroove Mix)
5) Sing It Back (Original Dub)
6) Sing It Back (Love Assassins Dub)
Full info on:
Love Assassins
JoBabe
Related Posts