Big In Ibiza February Flex – In Pictures
The Big In Ibiza events continue to grow from strength to strength with Friday night's February Flex hitting full capacity with hundreds of up for it party animals descending on The White House in Clapham Common, London for a night of sexy, stylish and above all fun house music. The atmosphere was incredible with the dancefloor rammed all night and not one tune delivering anything short of mayhem.
Kicking off proceedings LiNAS & Young made their mark yet again impressing everyone including their loyal fanbase and are looking strong to headline forthcoming Big In Ibiza events after delivering a 3 hour set ranging from grooving laid back beats to jacked up peak time anthems with some of their own bootlegs thrown in to boot. They setup the night perfectly, entertaining the crowd and getting them in the mood for a full on hands in the air session that is the trademark of Bii events.
Next up Bii residents Love Assassins took control and ramped up the dials to 11 dropping the biggest club anthems alongside some hot new productions and remixes fresh from the Big In Ibiza studios including Clock "Whoomph! (There It Is)" (Cut & Splice Manic Dub). Tune of the night had to be Cut & Splice's bootleg of Eric Prydz vs The Killers "Somebody Told Me (Pjanoo)" with Ellie Goulding "Starry Eyed" (Remix) coming in a close second spun by James Edwards.
The Brothers Grin aka James Edwards and Mark Batch completed the night in their own style plugging in the mic and hyping the crowd with their full on party grooves sending them into a frenzy till the venue tried to close at 4pm to the chant of… One more tune! One more tune! Although following the age old rule of always leave them gagging for more The White House pulled the plug on another fantastic night.
But don't despair! Big In Ibiza will return on Friday 12th March for The White House's 10 birthday celebrations and present Basement Jaxx alongside Bii residents Love Assassins and Cut & Splice as well as Ben Sowton, DJ Bappa D and Mike Chadwick 7pm-6am.
Details for Big In Ibiza present Basement Jaxx
Check out the pics…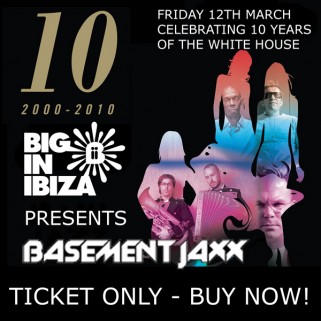 Related Posts