Mauro Picotto – Evribadi – Out Now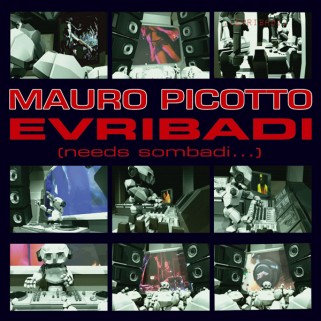 Mauro Picotto, The Lizard Man returns to Big In Ibiza with killer new singles taken from his massive artist album ('Now & Then') and DVD ('Live On Tour'). "Evribadi", showcases Mauro's current sound, a fusion of funky minimal with a techy edge and melodic elements that always made up his trademark sound that has made his Meganite event such a huge success and which he calls Electronic Music Lifestyle.
Mauro Picotto had incredible success during the 1990s and early 2000s with both underground 12" releases and the huge selling crossover hits 'Lizard', 'Komodo', 'Like This Like That', 'Iguana' and more. Evribadi marks a massive return to this form immediately hitting # 1 in both Music Week & DMC Club Charts and being MTV Dance playlisted. This accompanied by Mauro Picotto's insatiable fans have secured him gigs alongside The Prodigy, Aerosmith, Smashing Pumpkins & Incubus as well as his own BBC Radio 1 Essential Mix with the video for Evribadi being featured on Pete Tong's Fast Trax podcast!
Fonzerelli's remix led the package and transformed this underground monster into a cross over colossus! Check it out…
Download from iTunes
Download from Beatport
Mixes:
1. Fonzerelli Remix
2. Original Mix
3. Andy BopH Remix
4. Christian Hoff Remix
5. Mystro Remix
6. Reefa & Shoota Dub
7. Paco Osuna Remix
8. Meganite Mix
9. Adam Beyer Remix
10. Mark Maitland Remix
DJ Feedback
Cosmic Gate "I like the original already, nice new Meganite Mix here! For a long set we gonna have an eye on this 4 sure!!!!"
Stonebridge 'Slammin!'
Mark Knight 'Like the remix'
Layo Paskin – (Layo & Bushwacka) – "Really into this… can't decide which mix we'll play yet but will definitely be supporting in our sets."
Sasha – "Excellent… can't choose which mix yet, will come back to you."
Josh Wink – "Paco played this for me in Barcelona two months ago, and I've been waiting for it! Rocking! So, I look forward to playing this, thanx."
Rocky – (X-Press 2) – "ace, will definitely be able to use these!"
Dubfire – "Excellent package!"
Tom Stephan – "very cool, will defo play out this weekend."
Nick Warren – "Paco is mix is very cool!"
Seb Fontaine – "The Original is good for my sets."
Agnelli & Nelson – One word (GENTLEMAN) RESPECT!
Rubenderonde (Armin Van Buuren Radio): wow!!! frikin rocks!
Gee Moore (Bora Bora) 'Love it, playing it out and on the radio shows- orig and meganite mixes. The guys a fuckin genius, always has been – always will be.'
Mauro Picotto – Evribadi (Fonzerelli Remix)
Mauro Picotto – Evribadi (Original Mix)
Related Posts