Chris MiMo – Biography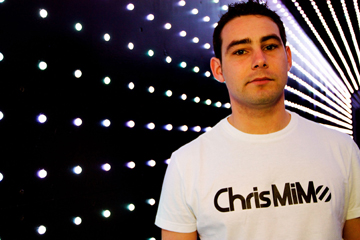 About Chris MiMo:
Since launching his MiMo event at The Cross, London, Chris MiMo has firmly established himself as a respected international DJ, Producer and Promoter. His releases have gained consistent support from top name DJs, and as well as the continued success of his events, Chris has gone on to DJ at some of the UK's and Europe's top venues.
Following on from previous events at venues including Pacha London, The Egg and Gurana Ibiza, 2009 has seen Chris' MiMo events find a new home at London's trendy Lightbox venue, launching in March to a full capacity venue. MiMo has also continued to hold their UK residencies at Reading's award winning venue, Bar Mango, and BluePrint in Milton Keynes. On top of their residencies, MiMo has also hosted nights alongside some of the UK's other best known events, including Back to Basics at My House in Leeds and The Gallery at London's infamous Ministry Of Sound. Following on from their weekly residency at Ibiza's Guarana hotspot throughout the 2008 season, MiMo will now also be hosting an event this summer alongside Viva at Ibiza's legendary Eden venue, and after the success of Chris MiMo's headline set at Bloom Festival last year, MiMo will also be hosting an arena at this years event.
On top of his events, 2009 has also seen Chris MiMo DJ everywhere from Bournemouth's Opera House venue to Denmark's Culture Box and all over London, playing alongside the likes of Carl Cox. Chris has previously headlined and spun at The Cross, Pacha, Ministry of Sound, The Egg, Turnmills, The Lightbox, White House, Bar54, The Island, Sankeys (Tribal Sessions), Back2Basics, Bloom Festival, Privilege Ibiza, Es Paradis Ibiza, and more. Chris has also played alongside international stars such as Carl Cox, Eric Morrillo, David Guetta, Kissy Sell Out, Luke Dzierzek, James Talk, Jonathan Ulysses, Luke Solomon, Tim Sheridan, Shane Watcha, Joey Negro & MYNC Project.
Signing to Big In Ibiza in the later half of 2008, Chris immediately began to fire out his genre bending anthems, which have gained consistent support from top name DJs, including Dubfire, David Guetta, Robbie Rivera, etc and gone on to remix for artists including, Mauro Picotto, My Digital Enemy and labels including Cr2.
Chris MiMo started his production career as one half of Dirty Funk Munkees (during his time as in house promoter and head resident for Smoke and Funky4Love @ Pacha, London) and immediately made an impact with his first tune, a one-off test pressing that to this day hasn't had a title or even a release getting listed in Pete Tong's top 10 tunes of the summer!
Last year Big In Ibiza met Chris MiMo at his event in Ibiza immediately snapping him up and putting their full weight of 20 years industry experience behind him joining acts such as Mauro Picotto, Fonzerelli & Tom Neville. Building from strength to strength with their White Isle inspired beats and at the forefront of the wave of new home grown talent emerging from the label Chris MiMo unleashed 2 killer new singles ("MiMo" & "Parachute") and remixed 2 of this biggest club tracks of the summer (Picotto vs Papini "Gonna Get Ya" & Fonzerelli "Losing U").
About MiMo Events:
MiMo is a distinctive club night that was set up by a group of friends back in 2006. It encompasses the wide range of experience and skills that each of them had within the House Music scene. All of them had a common passion for high quality dance music and unforgettable clubbing experiences.
MiMo was launched in late December 2006 at one of London's most prestigious clubbing institutions, 'The Cross'. Playing quality house music to the crowds, MiMo had created a party atmosphere that would become the norm for its future nights around London.
In 2007 MiMo established itself in some of London's most respected clubs such as Turnmills, The Cross, Jamm and Aquarium. The year also saw MiMo gain monthly residency at 'Mangos' in Reading, playing to a packed club into the early hours of Sunday morning. MiMo also had huge sucess playing at the 'Slaang' and 'Tenax' warehouse parties.
MiMo has always first and foremost been about the music, and this is reflected in their choice of DJs for their events. Seb Fontaine, Paul Harris, Jim Rivers, Island Knights, Mutiny, Deepgroove, Luke Dzierzek, Mistress Da Funk, and Tania Von Pear to name a few. Not forgetting of course the formidable MiMo residents. Between the 5 of them their knowledge of House, Electro and Techno, and their skills on the decks has earned them a reputation for a unique quality sound in the London dance music scene.
2008 has seen MiMo smash two parties at 'The Island' in Charing Cross, as well as taking the roof off the prestigious Pacha and the brand new 54 (Mile End)! MiMo has a busy year ahead with a monthly residency at one of East London's most established venues '54' in Shoreditch! MiMo has more London dates coming up, as well as playing to busy crowds at 'Guarana' in Ibiza every week throughout the summer!
MiMo has only become what it is today because of the people who come to our nights. MiMo has always been about creating an experience rather than just another club night. An emphasis on quality production and decor, and of course music, has led to people coming back again and again, each time with more friends. MiMo boasts a fantastic crowd who know their music and know how to party. (Taken from the official MiMo Events MySpace page).
Click here for more info on Chris MiMo… http://biginibiza.com/tag/chris-mimo/
Official Website:
Social Networks:
Facebook
MySpace
Twitter
Don't Stay In
MiMo Events Networks:
Official Website
Facebook
MySpace
Twitter
Key Releases:
Snowstorm
Electric Nights
Airstrike
That Soup Track
Pick Me Up
Flatline
Bounce
Dream Rush
Purple People
Sexy Lady Dance
Related Posts